Court Marriage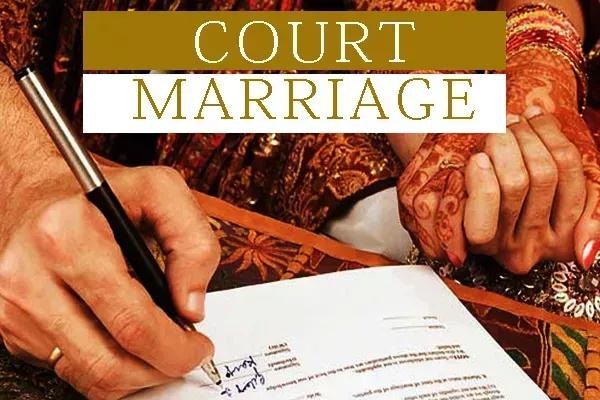 Court Marriage
An Official wedlock in between spouses solemnized in front of the Magistrate or Nikah Registrar. It is facility provided under Muslim Family Law Ordinance 1961, which provide court protection to the marrying couple.
Procedure
In Pakistan the court marriage Procedure is very easy and simple which follows the Procedure described here under.
1) The Marrying couple should not be less than 18 years of age.
2) Free consent.
3) Required documents i.e. CNIC or Form-B/ Passport etc.
4) Two witnesses, witnesses are also provided by our Law Associate on demand.
5) Four Passport size photographs of both (Bride & Groom).
6) An Affidavit from bride explaining her free consent.
7) Valid Divorce/death certificate in case of second marriage by the bride.
8) Valid permission certificate by the groom in case of second marriage.
We provide valid Nikah Nama after the execution of Marriage and Nikah translation services or also provided in required languages for immigration purposes. The court marriage certificate shall also be provided as a valid proof of the marriage.
Insaf Law Associates is the best Law firm in Islamabad & Rawalpindi dealing in Nikah Khawan services in Pakistan. Insaf Law Associates have a special panel of registered Nikah Khawan and Nikah Registrar in Islamabad & Rawalpindi (Pakistan).
If you are looking for court mariage contact us Mobile/WhatsApp No +92-300-8500985